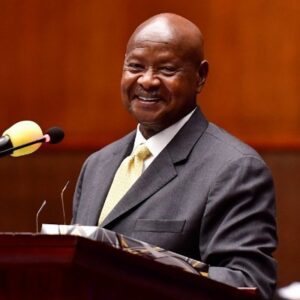 ---
We have made progress in reducing poverty over the years. However, malnutrition still ravages our country. Malnutrition affects millions of Ugandans in various ways, but it is particularly devastating to women, babies, and children. Malnutrition also impairs educational achievements and economic productivity, costing the government and families enormous amounts of money to treat related illnesses. Adequate nutrition is a prerequisite for human development and socioeconomic well-being.
The Government of Uganda is committed to fulfilling the constitutional obligation of ensuring food and nutrition security for all Ugandans. This 5-year Uganda Nutrition Action Plan (UNAP) is thus an important step as it provides the framework for addressing nutrition issues in the country sequentially to develop strong and quality human capital that will propel socioeconomic transformation. The UNAP has been formulated within the context of the National Development Plan (NDP), which is the overall vision for Uganda: transforming Uganda into a modern and prosperous country.
The goal of this plan is to improve the nutrition status of all Ugandans, with special emphasis on  women of reproductive age, infants, and young children. Different forms of malnutrition affect different groups of people in Uganda. However, it is during the 'window of opportunity'—the 1,000 days from conception through the child's second birthday—that the greatest returns to effective action to prevent malnutrition are realised.
The plan is intended to reduce the magnitude of malnutrition in Uganda and its impact on the individual, the household, the community, and the nation at large. It will stimulate the nation toward the achievement of acceptable levels of nutrition security, especially for women of reproductive age, infants, young children, and other vulnerable groups. I am pleased that the factors that have led to the persistent and sometimes worsening malnutrition and poor health of our people have been identified and documented. Malnutrition contributes to poor health, aggravates disease, and reduces productivity while compounding poverty and its after-effects. These are interrelated factors, which call for multi-disciplinary approaches.
Effective intra- and inter-sectoral linkages must be put in place to promote coordination and resource utilisation. The UNAP, therefore, calls for scaling up multi-sectoral interventions, placing more emphasis on community-based initiatives that have been proved to
yield cost-effective results, and targeting areas and groups with the highest levels of malnutrition. Investing in the fight against malnutrition will not only save lives but will also yield high economic returns for Uganda: Every 1,000 shillings we invest in nutrition results in economic benefits at least six times more. These gains mainly benefit the poor and most disadvantaged, as they spend less money on treating malnutrition-related diseases and increase their productivity,reaping sustainable socioeconomic benefits.
Fortunately, malnutrition does not require 'space science' knowledge, but it does require  information. District medical officers and others concerned need to inform families, through all appropriate media, that a human being needs the following basic nutrients: proteins for body building, carbohydrates for energy, and fats for body insulation, as well as energy, minerals  iron, zinc, calcium, potassium, phosphorus, iodine, etc.), and vitamins (A, B, C, D, E, etc.). Along with proteins, minerals are important for body building and for co-ordination of body functions; so are vitamins.
I extend my sincere appreciation to all those who contributed to the development of this plan. Members of the Nutrition Technical Committee and Nutrition Forum are commended for a job well done. The donor community is appreciated for its support. I cannot overemphasise the role played by the National Planning Authority in co-ordinating the development of this plan. All these actors truly deserve our recognition and gratitude. Now, as Ugandans, we must all do whatever is possible in the fight against malnutrition. So, I call
upon all those concerned to support the quick enactment of the Food and Nutrition Bill. This bill will establish a legal institution to co-ordinate different nutrition partners, ensure accountability in reaching the objectives of both the NDP and UNAP, and increase commitment of resources and expertise to scale up high-impact programmes and policies to improve nutrition in our country.
Since nutrition is a cross-cutting issue with economic, socio-cultural, political, and biomedical  dimensions, it is imperative that all sectors of the economy play their roles to achieve the goal  and objectives of this plan. I therefore call upon the Ministers of Agriculture, Animal Industry and Fisheries; Health; Trade and Cooperatives; Education and Sports; Gender, Labour and Social Development; the General Public; Local Government; and the Private Sector, Civil Society and Faith-Based Organizations, as well as development partners, to support the implementation of this action plan and align their programmes to it for a united response. We must act now: Our
actions will send a message to the Ugandan people and the world that Uganda will not look on while its people are ravaged by malnutrition. Truly, the price of malnutrition in Uganda today and in the future is too high to ignore.
For God and My Country
---